What is the Education Staff Wellbeing Charter?
Since 2019 the Department for Education has been in consultation with a number of industry specialists to co-create the Education Staff Wellbeing Charter.
The charter is a set of commitments that can be taken up by any state funded school or college, dedicated towards promoting the wellbeing and mental health of workers within the education sector.
After numerous studies demonstrating the risks to the psychological integrity of staff working within the education sector, the charter is designed to highlight, promote and enhance the wellbeing and mental health of workers. It identifies some key risk factors, in particular the impact of Ofsted on the industry, and as a result Ofsted themselves have also made a significant commitment towards the charter.
Why should I sign up to the charter?
There are multiple benefits to signing up to the Education Staff Wellbeing Charter. Namely:
The education sector is a high-risk industry for stress and mental health issues. Signing up to the charter demonstrates a commitment towards neutralising this risk in your workforce.
In doing so, you are showing your existing workforce that you care about them, and their individual health and wellbeing needs.
A commitment to your employee wellbeing helps to keep absences to a minimum and productivity and morale to a maximum.
It may reduce employee turnover, consequently also saving on the financial and time investment of recruiting and training new staff.
You are showing prospective new recruits that as an employer, you will take their health and wellbeing seriously and make it a priority wherever possible.
You are creating a culture of mutual awareness and support, amongst both staff and pupils.
Our online quote system and sign up process is easy to complete, and efficient to manage once you've joined.
Does it mean more work?
At the launch of the charter at the Schools and Academies Show 2021, attended by the Smart Clinic, Dominic Siwoku from the Department for Education discussed how the charter was not intended to create an additional layer of bureaucracy or scrutiny on schools, so any schools who sign up will not be subjected to any inspections or evaluations against the standards. The process is a self-declared commitment.
However for some to achieve the standards involved in the charter, there will be process changes required for the partaking school. Implementing external occupational health and wellbeing support from a company such as Smart Clinic provides a simple solution for this. For those looking for more of an 'in-house' solution, this is likely to involve a little more time, dedication and potentially funding.
Can the Smart Clinic help with the Education Staff Wellbeing Charter?
At the Smart Clinic, we have been fortunate enough to consult with the Department for Education for some time, offering our support, insights, data and expertise to help implement the charter. Subsequently we understand the charter well, and have been able to analyse our service offering to ensure that we can significantly support any school who has made the commitment towards the charter.
For schools looking to offer tangible, meaningful support to education staff when they need it most, there is no substitute for independent, impartial clinical assistance. Whether it is via Smart Clinic, or another education specific occupational health and wellbeing provider, engaging a package that provides staff access to the support they need is crucial.
Regrettably the data shows that an employee assistance programme alone isn't sufficient. Although it can provide a good initial point of contact for some, engagement is not as high as a full clinical support service such as the Smart Clinic enhanced OH package for example. Such a package provides staff a choice of therapeutic interventions, mediums, pre-booked appointments and specialist clinical staff, all available for your workforce whenever you need them.
There is of course a cost associated to implementing a service like this, but our enhanced OH service costs just £30 per employee per year for a wide range of staff and management services, so the cost is only a tiny fraction of an employee's salary, is significantly less than a health insurance or health cash plan scheme, and ultimately will provide almost all the support you require to be a fully engaged member of the Education Staff Wellbeing Charter.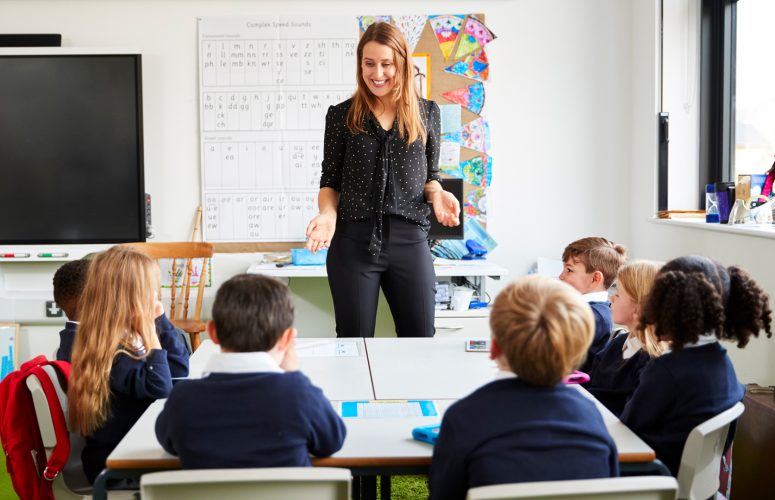 benefits.
Some of the common benefits our schools, academies and multi-academy trusts find from our service are:
To assess a teacher's medical capacity to undertake their new role within your school.
To assess a member of staff's fitness to work and address any specific queries you have relating to an illness or absence, such as advice on the equality act.
24-hour access to support, including emergency counselling or medical advice.
We'll train a member of your staff to be a mental health first aider to the students, helping to identify and recognise early stages of mental health concerns.
Structured sessions to help members of staff deal with any of their existing issues.
To assess a member of staff's fitness to work relating specifically to their mental health.
We'll spend time at your school to conduct health promotion activities that will boost morale, make staff feel valued, and help them to maintain positive health.
An assessment of working capacity, specific to any bone or muscular concerns.